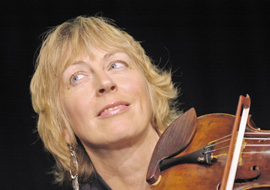 Lorre Lynn Trytten was born and raised in Stevens Point, Wisconsin. At age eight she was one of Margery Aber's first students at what would eventually become the Aber Suzuki Center. Lorre graduated with a Bachelor of Music (cum laude) from the University of Wisconsin at Madison, where she studied with Thomas Moore and Sydney Harth; was a soloist with the UW Symphony; played with the Wisconsin Chamber Orchestra; and wrote local history with the Bluegrass band Himalayan Mountain Boys (and Girl). She studied Baroque violin with Marilyn MacDonald at Oberlin College for two summers, which led to further baroque violin study in the Netherlands with Jaap Schröder at the Sweelinck Conservatory in Amsterdam. Later she received a Performance diploma from the Utrecht Conservatory, studying violin with Lex Korff de Gidts and Wiktor Liberman (Russian concertmaster of the Concertgebouw Orchestra).

Lorre gave up her job as first violinist in the Netherlands Ballet Orchestra in order to work with other orchestras and chamber ensembles as well as various bands, including the Dutch folk-pop band Flairck. For years she was a member of the Gustav Klimt String Quartet, the Xenakis Ensemble and that world-famous eclectic jazz band, the Willem Breuker Kollektief. She has given countless recitals in the USA, the Netherlands and other countries with various partners but most often with pianist Marian Bolt.

Lorre has made one solo CD, Feet on the Ground, with both original work and arrangements of international pop and jazz favorites for solo violin/viola, string quartet, rhythm section and various other instruments. With Marian Bolt she recorded two CDs with music by Fritz Kreisler: Viennese Fantasietta and Liebesleid. With the Bow Regards she recorded Musicals & Ballads.

She is featured on other CDs, including:
Willem Breuker Kollektief: Metropolis, Sensamaya, Heibel, Hunger, Thirst
Flairck: De Optocht
Kamerorkest Driebergen: Brainstorm
Maartje ten Hoorn String Quartet: Sparkles
Klimt!: Kiss the Guitar Player

As a session violinist Lorre contributed to various CDs for artists such as Marco Borsato, Kayak, André Hazes, David Guetta, Jan Smit, Jurk!, Within Temptation, 3JS, and Daniël Lohues.

Energy and passion characterize Lorre's violin playing. She is known for her power and verve, her dynamic stage presence and easy rapport with an audience. Whether she is improvising or playing notated music, with Lorre on stage there's never a dull moment; one is guaranteed a masterful show of virtuosity, humor and creativity.