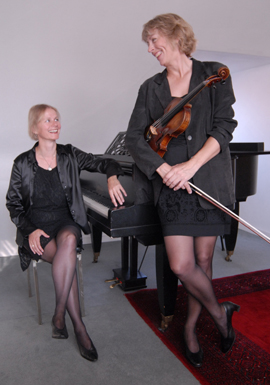 Lorre Lynn Lorre Lynn Trytten and pianist Marian Bolt have played together since conservatory days. As a duo they prefer not to walk the beaten track. Their extensive romantic repertoire includes various treasures unearthed in archives and second-hand shops. Their shared interest in the music of Fritz Kreisler has led to the collection of his complete works, some of them long out-of-print.
They have recorded two CDs of Kreisler's original music. In the modern idiom they concentrate on the grey area between classically-notated and improvised music. Willem Breuker has written for them, and they regularly play new compositions by Lorre herself. Their programs include Dutch music and work by female composers.
The complete list of their repertoire comprises several pages and includes work by Adams, Andrée, Brahms, Lekeu, Respighi and Ravel. Usually Lorre provides the light-hearted presentation, and most concerts include at least a few pieces by Kreisler.